CTO Founders at WeWork LABS
Oct 15, 2019 @ 6:30PM EDT
Security Building, 117 NE 1st Ave, Miami, FL 33132, USA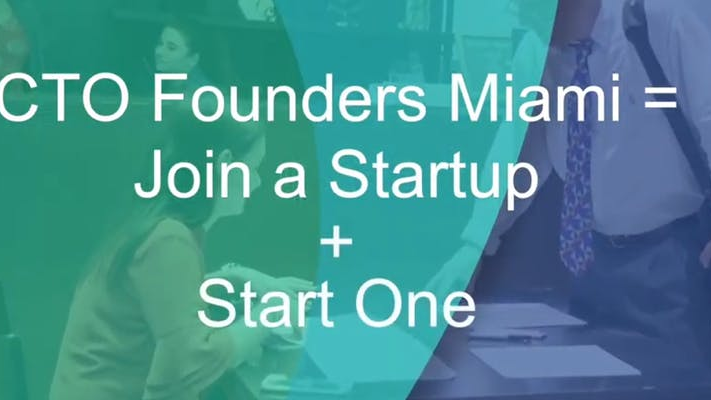 ---
Event Details
Description
Topics:
CEO: We are hiring a local CTO/Developer for Fashom
CEO: How do I build a Database of Professionals?
CTO: Learn from Zero to MVP
CTO: Learn from MVP to Product Market fit
We will have 3 speakers for this event:
2 CTO, Coder, Web Developer, App Developer, UX/UI Designer
2 CEO, Entrepreneur, Startups
a) Speakers will have 15 minutes to present, pitch or talk about their idea or company. They can speak or talk in freeform because it is not intended as an investor pitch. There is no judging or competition at this event. Most of event will be networking with each other.
b) Our goal is to connect and help you find and or hire locally within South Florida a Co-Founder, Advisor or mentor and someone that likes their idea and company at idea stage, traction, product market fit, generating revenue and so on for the next phase and scale.
c) Their pitch or talk will be on video which we will post on our channels and will share it various websites and channels. It's a great way for everyone to share, learn, market their company and even get an investor or raise funds too.
d) Interested in speaking at future events join our slack channel send me DM CTO Founders Miami
What is CTO Founders Miami?
CTO Founders Miami is to connect experienced as well as graduates who are CTO, Coders, Web Developers, App Developers, UX/UI Designers, CEO, Entrepreneurs, Startups and those that are passionate of their idea, product or service enough to Join or Start a Startup. CTO Founders Miami is a networking event, website and App to match, connect, educate and grow our ecosystem not only in Miami but throughout South Florida.
Speakers:
Mitali Saxena – CEO/Entrepreneur - We are hiring a local CTO/Developer for Fashom
Steffany Lee - CEO/Entrepreneur - How do I build a Database of Professionals?
Angel Lacret - CTO/Developer – Learn from Zero to MVP
Page Horton - CTO/Developer – Learn from MVP to Product Market fit
Date: