EventNEXT has been nothing more than a dream at the ViewStub headquarters for the past 2 years. The idea was first brought to the table in 2019 by ViewStub CEO Spencer Elliott. For those who don't know, ViewStub was actually born from our founding teams love for attending events and unique experiences. Our love for events drove us to work towards solving the problems that most event
planners struggle with, and ultimately helped us pioneer the hybrid event format in 2018 with the launch of our platform and software. 
Fast-forward to last week, we successfully hosted our inaugural , with over thirty world-class speakers and thousands of event professionals attending from around the globe. Intended as an educational experience for #EventProfs, EventNEXT was a content hub for strategically approaching the new landscape of the events industry, best practices in event tech, and incorporating a hybrid approach to future events. This experience became a logistical masterpiece, combing live studio sessions with pre-recorded panel discussions, presentations, and much more. 
EventNEXT: Behind The Conference 👨‍💻👩‍💻
As soon as we were in a position to host our own major event, we couldn't help ourselves. EventNEXT quickly became a talking point around the office before it even had an official name. We secured one of the largest conference centers in Orlando. We began creating promotional materials, sourcing speakers and sponsors, and brainstorming logistics. We even chose the official event date – Summer 2020. Then, like a truck full of bricks, COVID-19 hit the United States. The landscape of our industry was changed forever, and we were forced to postpone our conference until 2021. The entire country assumed COVID-19 would be around for a few months and everything would go back to normal. As we know now, this wasn't the case. To ensure a safe environment for our guests, we eventually made the decision to pivot our conference to a "virtual" format for 2021. Don't worry, this just means we will have to go even bigger next year for EventNEXT 2022. 
Once the format was finalized, we hit the ground running sourcing speakers who would truly provide value to our attendee base, not just fill up a time slot. With the help of our event partners at Scaleable and Mercury Events, the ViewStub Team successfully partnered with over thirty speakers who have a great deal of knowledge in the events space. Additionally, our virtual conference had a top-notch production provided by OPAV, a local partner here in the Central Florida area. 
World Class Speakers and Breakout Sessions 🌎
Live Speakers and Presentations  – While most of our speakers recorded their sessions from around the globe, we wanted to make sure this event felt more like a professional production and not just another Monday morning zoom call. We invited some heavy-hitting speakers like Shark Tank's Kevin Harrington, Epic Sports CEO Matt Haines, and Board of Advisors CEO Mike Calhoun.
Make sure you check out the main stage sessions now streaming on ViewStub!
Pre-Recorded Global Sessions – Since we pivoted to a virtual format, we had some amazing speakers present to our audience from around the world. Some of these pre-recorded sessions include event experts such as Endless Event's Founder Will Curran, Event Industry News Founder Adam Perry, Evensi CEO Paolo Privitera, and many more. 
EventNEXT was a huge success, and we are so thankful to everyone who attended, participated, and presented at our first ever #EventProfs conference! Special thanks to all of our sponsors, event partners, ViewStub CXO Dylan Shinholser, and our entire marketing team.
As we continue to push boundaries in the industry, we can guarantee EventNEXT 2022 is going to be one of the biggest conferences of the year. Stay tuned for an official venue, date, and agenda announcement. 
Before I go, I wanted to remind you that all EventNEXT sessions are now streaming on ViewStub! With so much value to gain, make sure to check out our world-class speaker lineup for free by attending our virtual conference.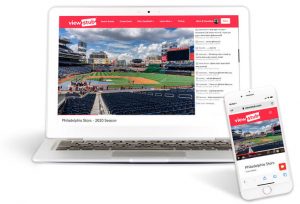 ViewStub is a virtual and hybrid event platform that makes it easy for event organizers to sell tickets to live events or sell access to pre-recorded sessions right from their website. ViewStub's all-in-one platform offers ticketing, registration, video streaming and new revenue opportunities for creators seeking to monetize their content and grow their community.